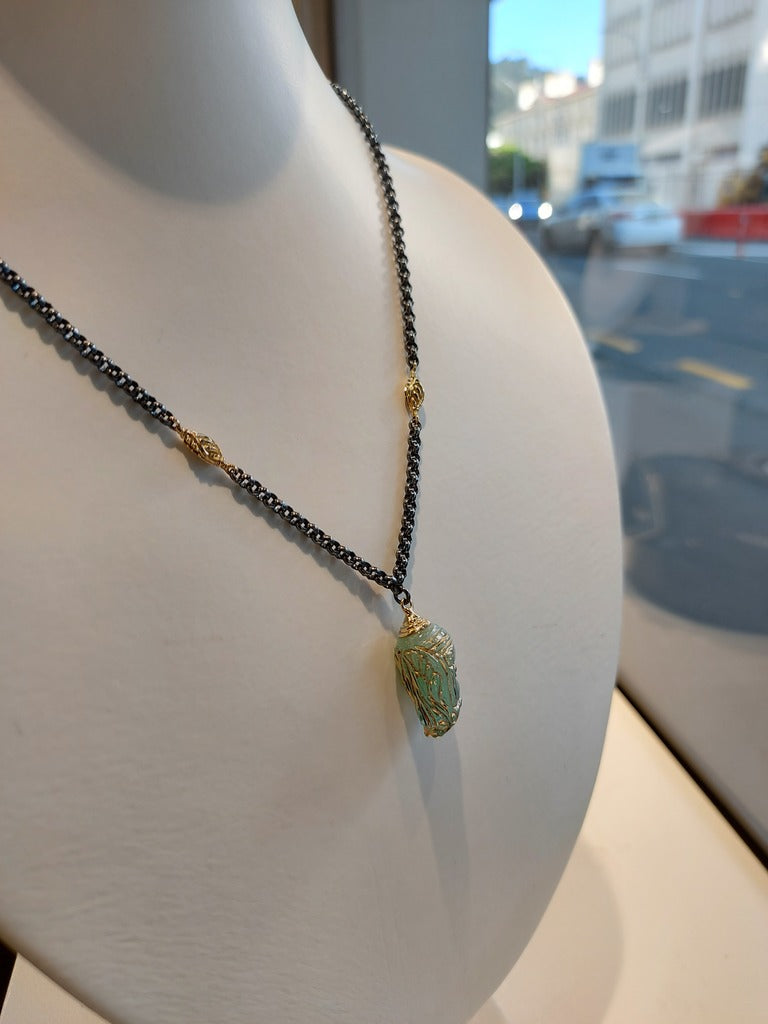 Posted on
---
The Chrysalis is a perfect example of nature's beauty and is a recurring theme in Steph Lusted Jewellery. This Necklace design developed from a long fascination with the chrysalis as an object and combines my strong passion and love for glass. The Chrysalis is hand carved in wax, then cast in glass which is a very time consuming process. Many waxes do not make the selection as the process can be very volatile when working with highly detailed works of this size.
This piece features a stunning colour combination of opaque almond, transitioning to a beautiful translucent mint green. The glass is then finished with gold highlights and is completed with a cap of 18ct yellow gold.
This delicate Chrysalis is suspended on a heavy weight Sterling Silver belcher chain which has been blackened, which features two hand carved beads crafted in 18ct Yellow Gold.
I design for this necklace came about in 2015 as part of my original Chrysalis Collection. This particular necklace design has been remade recently as a request from a customer so x3 individual pendants were made. This is the last necklace available from this recent series and will this design will not be made again.
Contact
Steph Lusted is a Wellington Jeweller and Artisan Goldsmith who creates unique, handmade jewellery and small-scale sculpture.
17 Whitmore Street
Wellington, 6011
New Zealand
Support
Sign up to our mailing list